In the wake of the COVID-19 pandemic, the world witnessed a massive shift in the way we live and work. Home-based activities like remote learning and working from home became the new norm for many. As people embraced this new lifestyle, the demand for comfortable and versatile home furniture surged. Among the leading trends in home furniture are Disney Home Gaming Chairs, designed to cater to the needs of both work and play. These gaming chairs, along with matching desks, are adorned with beloved Disney franchises like Star Wars and Marvel, making them a sought-after addition to any home.
Disney Home Gaming Set
Disney Home Gaming Sets offer a unique combination of gaming chairs and desks that encapsulate the magic of iconic Disney franchises. From the adventurous world of Star Wars to the superhero universe of Marvel, these chairs are beautifully designed with intricate detailing that appeals to fans of all ages. The eye-catching themes and vibrant colors create an immersive experience, making gaming, working, or studying at home even more enjoyable.
But their appeal doesn't end there. The uniqueness of these gaming chairs lies in their exceptional versatility. Apart from being the perfect seating arrangement for gaming enthusiasts, they are also ergonomically designed to serve as excellent equipment for home learning and working from home. The chairs provide ample support for maintaining correct posture during extended study or work hours, reducing the risk of strain or discomfort.
Distribution Partnership
To ensure widespread availability and accessibility, Sourcebynet has forged strategic distribution partnership with reputable customers allow Disney Home to reach a broad audience, making these gaming chairs and desks accessible to homes far and wide.
Official Partnership with Sourcebynet
Sourcebynet (SBN) proudly stands as the official partner of Disney Home, responsible for distributing the enchanting Disney Home Franchise Gaming Sets. As an esteemed distributor of quality products, SBN plays a crucial role in ensuring that these gaming chairs and desks reach the hands of eager customers.
With a commitment to reliability, efficiency, and customer satisfaction, SBN works tirelessly to maintain the high standards set by Disney Home, delivering these sought-after pieces to homes.
The trend of home learning and working from home is here to stay, and it is essential to create comfortable and functional spaces within our homes to support these activities. Disney Home Gaming Chairs and desks offer the perfect solution, combining the joy of beloved Disney franchises with ergonomic design for long hours of use. Whether it's battling the forces of evil in a virtual world or conquering work and study challenges, these gaming chairs are sure to delight users of all ages.
As the official partner of Disney Home, Sourcebynet (SBN) ensures that these delightful gaming chairs and desks find their way into the homes of passionate Disney fans and dedicated remote learners and workers alike.
• 521181-02 Alexander Gaming Chair, Marvel • 521179-05 Cross Gaming Desk, Marvel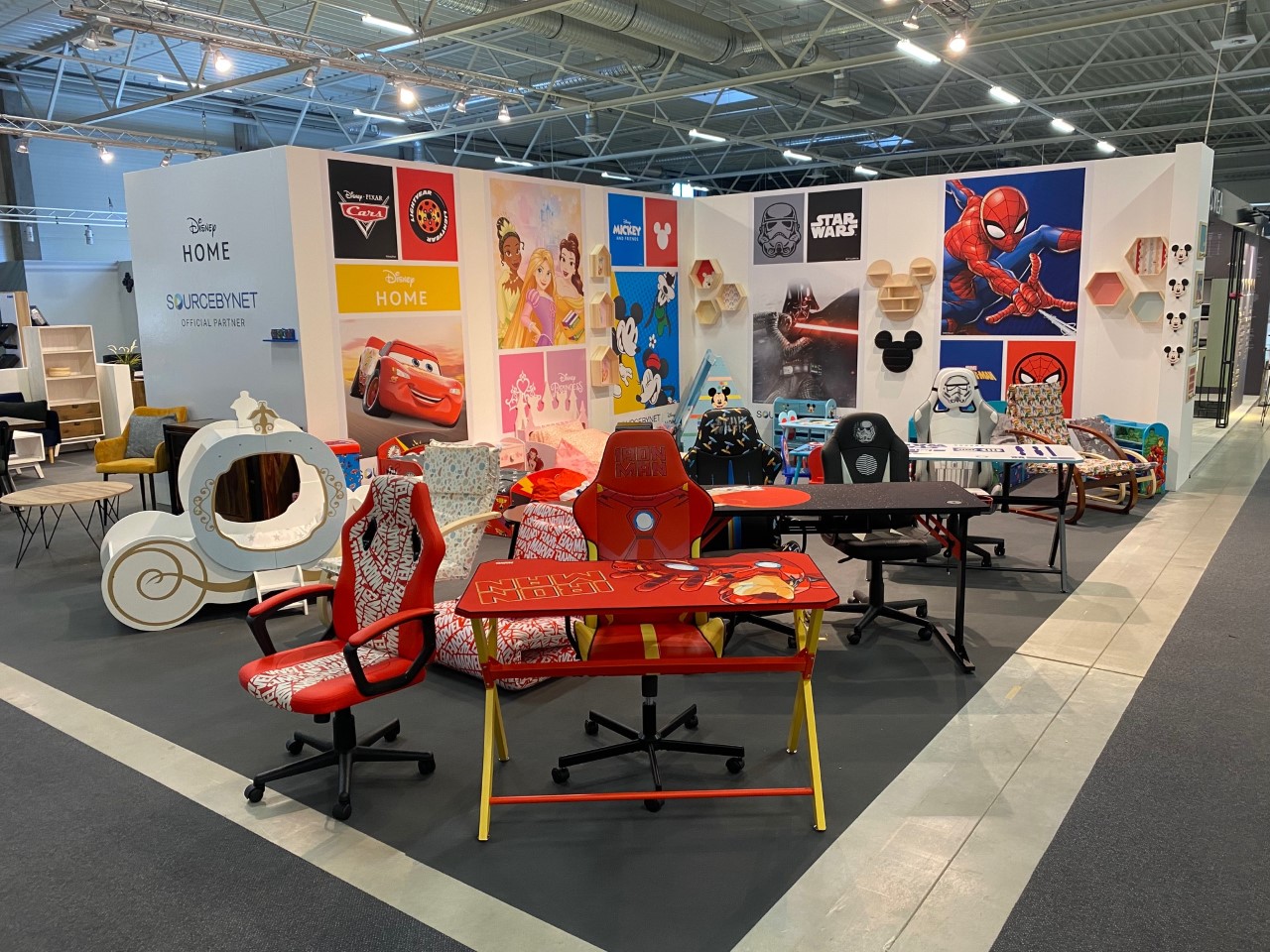 MOW Furniture Fair 2022